Platinum 2.72ct Emerald Cut Diamond Engagement Ring with French Cut Halo and French Cut Graduating Sides.
There are so many life's milestones that we PriceScopers like to mark with new jewelry. Wedding Proposals, Anniversaries, Vowel Renewals and Birthdays. We love life's milestone events to be met with sparkle! This week's Jewels of the Week was posted by PS Member, Iluvcarats. This magnificent engagement ring and tennis bracelet are the results of having a lot to celebrate!
ENGAGEMENT RING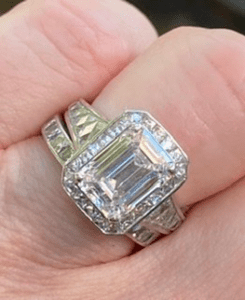 Changing up the original engagement ring can be a very exciting Anniversary adventure, and this is iluvcarat and her husband's 25th! She chose to go from a Round Diamond to a stunning Emerald cut with a French cut halo. The engagement ring was custom designed by Bez Ambar, and it turned out stunning.
TENNIS BRACELET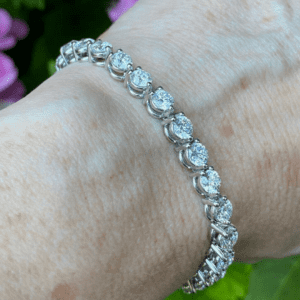 DH also got iluvcarats this incredible 8.7ct bracelet; It's the 10ct 3 prong tennis bracelet from IDJewelry, but hers is 8.7ct's because it's only 6" long.
We are so glad to see you again and wish you your best decade yet. Congratulations on your new additions and thank you for sharing them with us on the Show Me the Bling! forum.
THE STATISTICS
Engagement Ring
Cut: Emerald
Carat Weight: 2.72ct
Color:  D
Clarity: VVS2
Tennis Bracelet 
The bracelet is 6 inches long and weighs 8.7 carats.
Let Iluvcarats know what you think of her new pieces in the Comments section below.
Written by Kayti Kawachi