Platinum Cushion Cut Micropave 1.81c DVVS2 Diamond Engagement Ring 
Engagement rings are prominently known as the first big jewelry purchase that most consumers make. This incredible Cushion Cut Engagement Ring was the result of Chiguy's search for the right ring for the big question. The engagement ring search is one of the main reasons why people join the PriceScope community. This week for Throwback Thursday we are thrilled to show off PS Member Chiguy's jaw dropping custom engagement ring.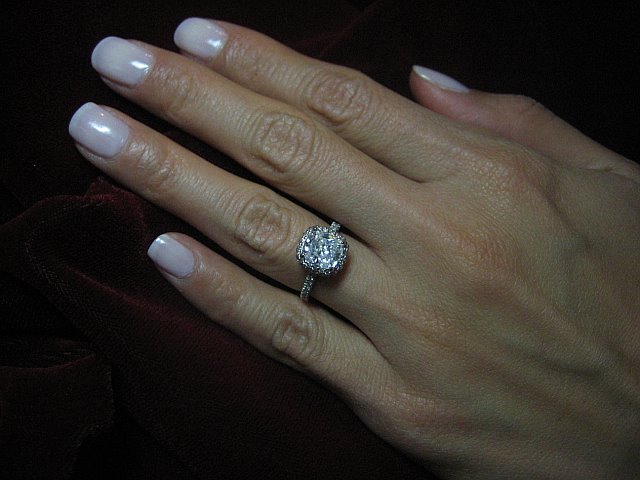 Gorgeous, gorgeous, gorgeous! This is a custom-designed Cushion Cut Micropave Halo ring by Mark T at Brilliantly Engaged (formerly known as Engagement Rings Direct). This ring garnered the big YES! and it would've been incredibly difficult to say no to this stunner (or the guy that came with it 😉)! Since discovering PriceScope and learning that online shopping for diamonds is trustworthy, Chiguy took the risk! He used the knowledge gained from PriceScope and knew exactly wanted he wanted. Resulting in this magnificent custom-designed piece.
I hope it has been worn in love, health, wealth, and happiness in the intervening years!
THE STATISTICS
Carat Weight: 1.81 ct
Color Grade: D
Clarity: VVS2
Setting: Pave
Finger Size: 5
What was the first piece of Jewelry you purchased online? Let us know in the Comments section below.
Written by Kayti Kawachi