By
Erika Winters
Virtual try-on technology is making it easier for online shoppers to check out jewelry styles from anywhere in the world via their mobile devices. And the technology is getting more accurate with each app. Last week, online jewelry retailer Blue Nile launched its new mobile shopping experience with an added virtual try-on feature for iPhones. The feature is now part of Blue Nile's popular "Dream Box" area that displays thousands of engagement rings created by the retailer.
We tried out the feature, and we were surprised by how quickly and easily it works. You simply take a picture of your hand, the app accesses your image, and then it's ready for you to try on as many engagement-ring styles as you like. Through the "Dream Box" feature, the virtual try-on randomly selects styles every time you click "shake" or manually shake your iPhone. So if you're just starting out in your engagement ring search, it's a fun way to see different looks on your hand that you might not try otherwise.
You can also access the virtual try-on by searching for styles first. After your hand's image is on the app, you can select the "Engagement" button at the bottom of the screen, and it will guide you to "select your setting & try it on." So the app displays your hand's image on each engagement-ring style page for easy access.
After you've virtually tried on styles, you can share via Facebook, Twitter, text, or email to send a hint.
Below are a few screen shots from our own virtual try-on, so you can see how it works. The Blue Nile app is free on iTunes.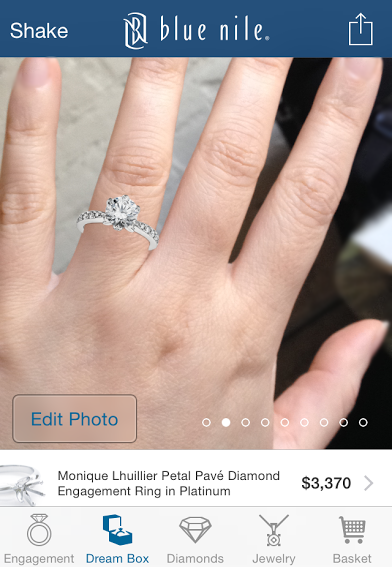 Blue Nile's virtual try-on feature allows you to see multiple engagement-ring styles on an image of your hand. You can adjust and scale the ring to fit your finger for the best "fit."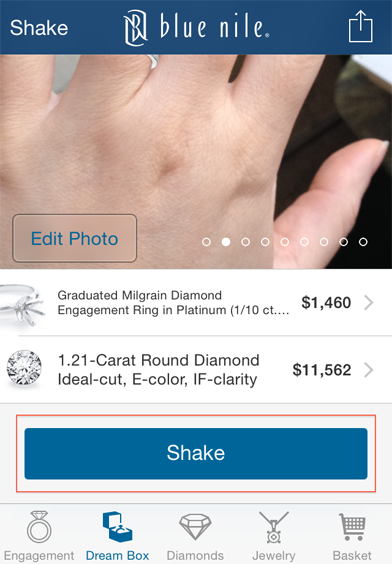 Click "shake," or shake your iPhone manually, to see a new style.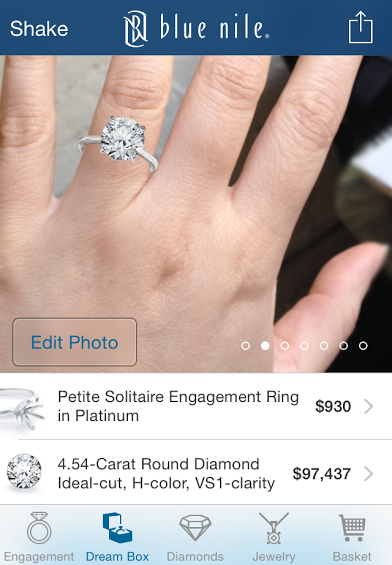 After you click "shake" a new ring appears.
Related:
Blue Nile Engagement Rings on Display at Nordstrom

Check Out Jeff Cooper's New Virtual Try-On Bridal Jewelry App