CharmyPoo originally fabulous August Vintage Cushion Engagement Ring on the Show Me the Bling forum at PriceScope.  This is the culmination of a jewelry journey, that spanned over at least five years. This glorious ring was worth every minute.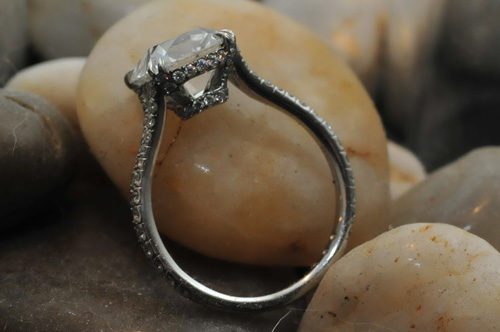 From the Good Old Gold website: GOG worked with a skilled cutter to determine the precise combination of angles that would produce the perfect saturation of reds (light reflection) via the ASET technology and in the summer of 2009 Good Old Gold introduced the August Vintage® Cushion!
The goal of this product was to produce precise optical symmetry combined with the best light performance attainable in the vintage cushion facet design. After perfecting the cut we submitted the August Vintage Cushion to AGS Laboratories and on June 9th, 2010 AGS Laboratories deemed August Vintage Cushions to officially have "Ideal" Light Performance making them the first vintage cushions in the world to attain such status.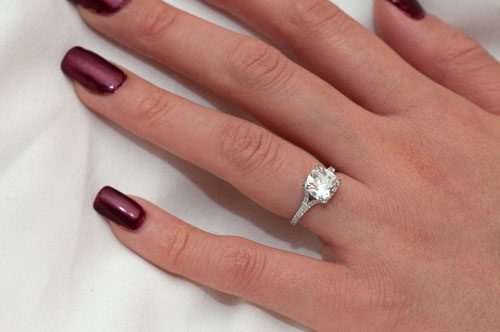 This fabulous AVC stone was sourced from a PS Favorite, Jonathan at Good Old Gold! The ring itself was created by Leon Mege. I recently featured another GOG AVC Leon Mege creation, and I am just taken with their beauty! That split shank is a marvelous touch, just gorgeous!
The Stats:
Diamond Specs
August Vintage Cushion (AVC)
Measurements: 7.22 x 7.20 x 4.56 mm
Carat Weight: 1.71
Color Grade: E
Clarity Grade: VS1
Depth: 63.3 %
Table: 53 %
Ring Size: 2 5/8
Visit the original post with more pics, and join me in congratulating CharmyPoo
On Throwback Thursdays, we celebrate beautiful pieces that have been shared over the years!
Thank you so much for sharing your jewelry experiences with us. Keep revisiting PriceScope's past with us each Thursday!
#TBT
Come show off YOUR fantastic bling with fellow jewelry lovers and trade professionals
Learn more about Cushion Cut Diamonds from PriceScope