By Erika W.
Pricescope Featured Sponsor and active forum member, Wink Jones, has written an article on the CAD (Computer-aided design) process for consumers. The article illustrates the process with before-and-after pictures of CAD designed jewelry pieces and concludes with a helpful set of tips for consumers.
**Check out Wink's article for an in-depth look at the CAD design process: Custom Jewelry Design Process with CAD
Tips for Successful CAD Design by Wink Jones
1. Have some ideas about what you want and be prepared to discuss them with your jeweler.
2. Understand that the creative process may take more than one try before you are satisfied.
3. Be critical when you look at your CAD. If you have any questions, now is the time to express them. At this point what you are looking at is a design concept. If there is something about the design you do not like, talk with your jeweler and have him make a new CAD prior to beginning work.
4. If at any time you feel your jeweler is not responding to your concerns and desires, walk away. Your CAD fee will be small and walking away from someone who is not listening to you is better than ending up with a piece you do not like.
5. Understand that with most CAD programs the ring will not look exactly as it will when it is finished. The prongs will tend to stand up too high as they will be made longer than necessary so that the stone may be set securely and the excess removed after stone setting. Things like pavé will not look finished as the beads that are used to set the stones will not show in the CAD. If you are uncomfortable with this, ask your jeweler to show you an example of a CAD and the finished piece so that you can see the difference. If you go back to the beautiful ring we did with the purple sapphires it will be very easy to see how different the finished piece looked than the CAD did where the sapphires were pavé set.
6. Understand that doing proper custom work takes time. If you want this ring next week go to the mall and buy a finished piece.
7. Enjoy the process!!! You are about to create something that is uniquely you! Enjoy it. If you are creating this for someone you love, or for yourself, know that the end result will give you a story to tell for the rest of your life. What a shame it would be if you did not enjoy creating this magnificent story.
* * *
Ring Design from CAD to Finished Piece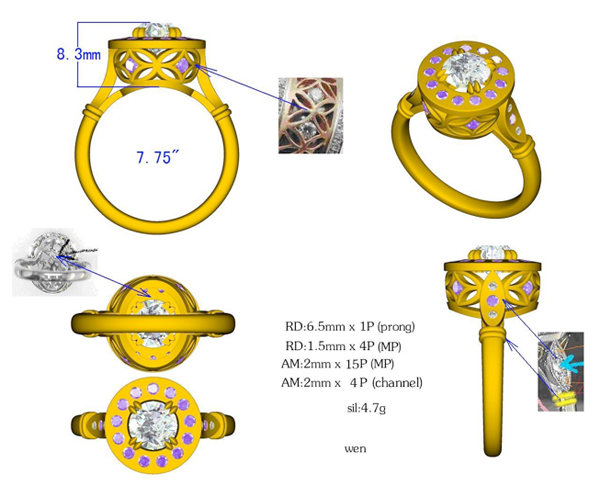 The photo above shows the initial CAD rendering of a diamond and purple sapphire ring for one of Wink's clients. The photos below are of the completed ring. Notice the difference in size and scale of the sapphires to metal in the CAD rendering vs. the finished ring. CAD renderings typically show metal in excess, with detail only to be seen when the piece is finished. (See Wink's Tip #5)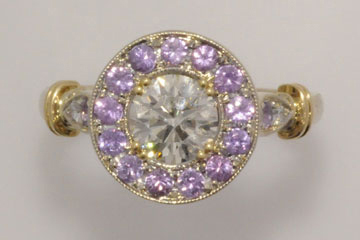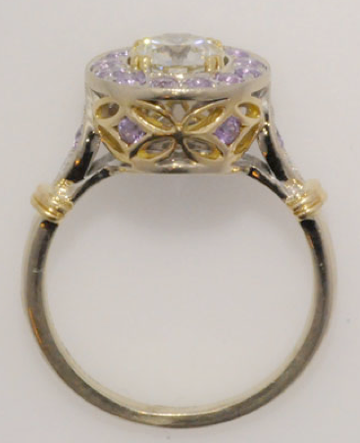 Related Topics: