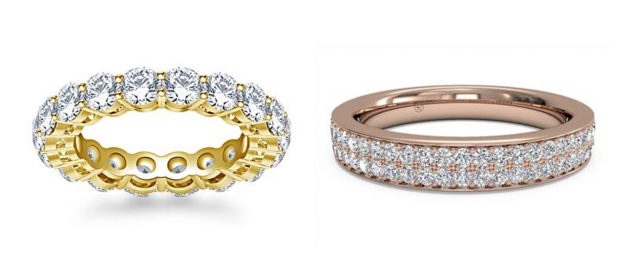 5 Wedding Band Tips
My wedding is a few months away, but when my fiance and I had to pop into a jeweler to have my engagement ring fixed (more on that in a later post), we decided to look at some wedding bands to pass the time.
We went to two jewelry stores and spent about 45 minutes total looking at wedding bands and I came away with five tips to help make your wedding band search go smoother.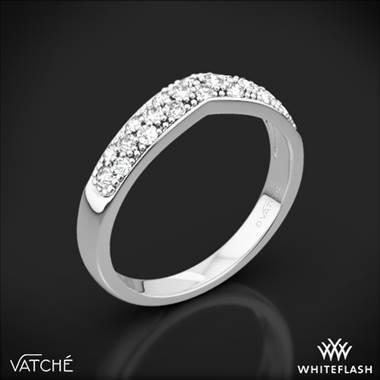 Platinum Vatche 213 contoured pave diamond wedding ring

at Whiteflash
Visit the Store
I thought my fiance and I were going to purchase our wedding bands online. It was simple, find the exact type of bands we want from a reputable dealer and then purchase them. It was going to be easy as one, two three. But it wasn't until we were in a jewelry store that we realized how big of a mistake we could have made. Seeing rings in person may change your mind as to what your "dream ring" really looks like, though you should make your purchase from your preferred vendor whether online or in person!
Bonus tip: You can stick to your budget and still find your dream ring. There were an amazing number of wedding bands at every price point, so fear not and find
your dream ring!
Have an Open Mind
That's because what we thought we wanted turned out to be the exact opposite. I thought my fiance wanted a wide yellow band. We learned that he preferred a 5 mm band instead. I wanted anything BUT a contoured wedding band. Instead, I fell in love with a curved band. That's pretty amazing considering I was not a fan of them until I tried one on that was just too beautiful to ignore.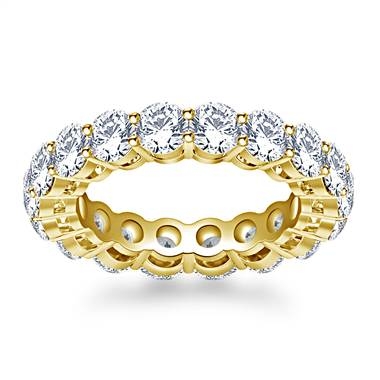 Timeless prong set round diamond eternity ring set in 18K yellow gold

at B2C Jewels
Visit More than One Jewelry Store
However, I tried on standard and curved bands at one jewelry store (a standard mall jeweler) a started to get worried. I didn't find anything I liked regardless of the price point. We decided to head to another jeweler in the mall and it made a complete difference. There were multiple rings which I liked and tried to decide if I wanted to stack two wedding bands – my fiance's preference- or stay with the wedding band, engagement ring combination.
Your Wedding Band Doesn't Need to be an Exact Match
Although I recommend matching your metals, don't feel like the styles need to be an exact match. Pairing an antique band with a modern ring can lend a unique and fresh look to your wedding set. The key is to find a band which complements your ring, not detracts from it.
Bonus tip: Use the mirror to evaluate your wedding band, engagement ring pairing.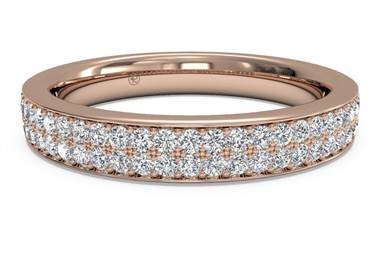 Women's double micropave diamond wedding ring in 18K rose gold

at Ritani
Don't Feel Pressured to Make a Decision
That said, we didn't purchase any bands. We would like to visit one more jeweler to make sure that we still love the same wedding bands. We have to wear these rings for life, so we want to be sure that we'll love them today and tomorrow.
Wedding band shopping is fun, but it can also be frustrating if you don't know where to begin. Don't lock yourself into any style, any jewelry store or even your preference to find the wedding band of your dreams.

By PS Staff