By Erika W.
Bonhams is offering a rare 17th-century diamond and emerald necklace for private sale. The Mughal Mirror Diamond necklace has been valued at $20 million and holds five rare, colorless diamonds with carved Colombian emerald drops suspended from a woven gold and silk cord. The central diamond weighs 28 carats and is the largest known surviving table-cut diamond. The five diamonds together comprise the largest matched set of table-cut diamonds from the Mughal empire. Thin and flat, table-cuts (also known as mirror-cuts) emerged in the 15th century and are one of the oldest diamond cutting styles. The diamonds were likely mined from India's famous Golconda region, where some of the world's rarest diamonds, including the Hope Diamond, the Koh-i-Noor, and the Beau Sancy, were also discovered. The Golconda mines were depleted in the early 18th century.
Though the settings and the Colombian emerald drops were added later, the necklace is true to Mughal style. Bonhams estimates the setting was created in the late 18th or early 19th century. Based on size and quality, the diamonds were likely owned by a Mughal emperor, although their exact origin is unknown.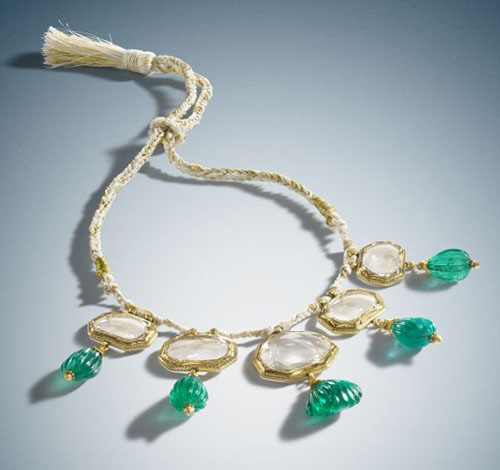 Photo: Bonhams
"Having worked in the jewellery business for over thirty years, I have rarely come across such a masterpiece in terms of craftsmanship and survival. The presentation of the Mughal Mirror Diamond necklace, containing five extraordinarily well matched mirror diamonds, is causing great excitement in the world of jewellery scholars as well as potential buyers," said Matthew Girling, Bonhams CEO and International Head of Jewellery, in a statement.
Related Topics:
Sotheby's to Auction "The Light of Golconda"

Emerald and Diamond Tiara Sets World Auction Record