By Erika W.
The historic Beau Sancy diamond will lead Sotheby's Magnificent Jewels and Noble Jewels Sale in Geneva on May 15, 2012. The 34.98 double rose-cut diamond has an impressive provenance, as the stone has been passed through four royal families of France, England, Prussia, and the House of Orange. The diamond was set as the focal point of Marie de Medici's crown (shown below), which was worn at her coronation as Queen Consort of Henri IV in 1610.
Sotheby's states that the Beau Sancy likely originated from the Indian mines near Golconda, a source which produced such famous diamonds as the Hope, the Koh-i-Noor and the Regent. The Beau Sancy is expected to fetch between $2 and 4 million.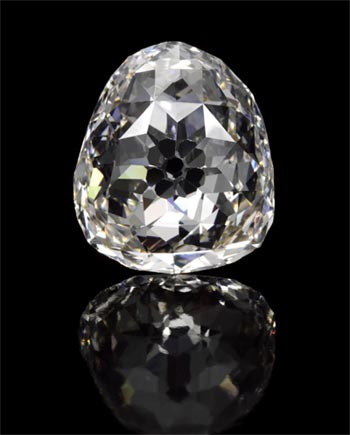 Photo: Sotheby's
In 1604, the stone was purchased by Henri IV and given to his wife, Marie de Medici. The Queen wore the Beau Sancy in her crown at her coronation in 1610.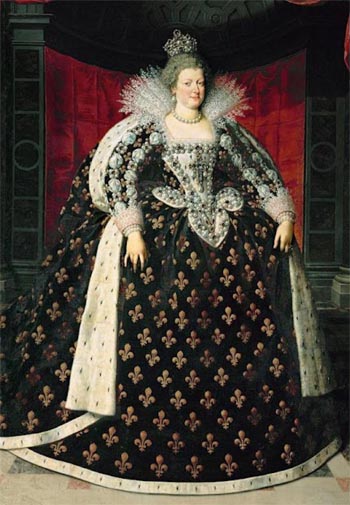 Marie de Medici in coronation dress – 1610
In the last 50 years the Beau Sancy has been publicly shown only four times. Sotheby's will be showcasing the stone on an international tour before the May 15 sale.
Exhibition dates and locations:
Hong Kong – March 30-April 2
New York – April 14-16
Rome – April 19
Paris – April 24-25
London – April 27-30
Zurich – May 2-3
Geneva – May 11-15
Contact Sotheby's for exhibition details.
Related Topics:
Sotheby's to Auction "The Light of Golconda"

"The Imperial Cushions" Rare Golconda Diamond Ear Pendants
Emerald Earrings and Diamond Pair Set Records at Christie's Hong Kong