By
Erika Winters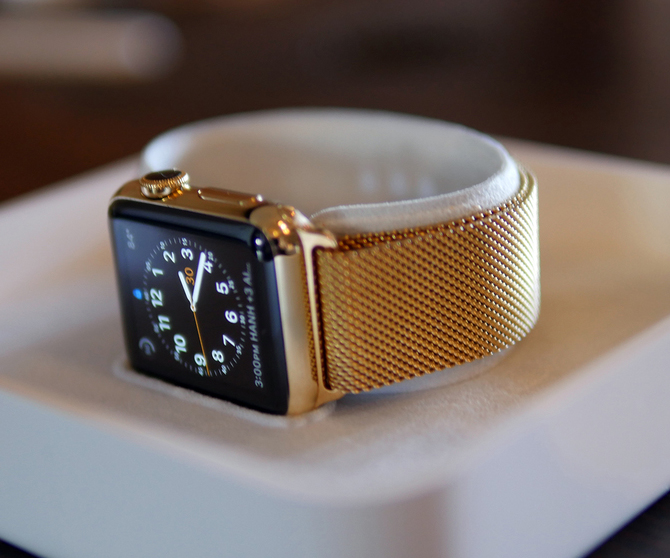 Gold plated stainless steel Apple Watch from WatchPlate.com
When Apple rolled out the pricing for its new Apple Watch Edition, the model that includes solid 18k rose and yellow gold cases, many balked at its $10,000-$17,000 price tag. We knew the gold versions would be pricey, but many didn't anticipate a $17,000 price for a gold case on a leather strap. (Apple Care is an additional $1,500.) Considering that the stainless steel Apple Watch with Milanese Loop band starts at $649.00, the price jump for gold is pretty vast for the average smartwatch shopper. So naturally, we've been waiting for companies to start offering plating services for the stainless steel Apple Watch.
Los Angeles based Watch Plate is one company doing just that. They will plate any stainless steel Apple Watch case, band, or hardware for a $399 flat fee. The company will plate stainless steel models in both yellow and rose gold for the same price.
While tech reviews of the devices' features outline functions–including those that are mysterious and problematic–the Apple Watch Edition is really more about fashion and luxury certainly. It's not a device that you need. It's one that you want. And if you want one in gold, but don't care for the price, you can have the stainless steel version plated. Just note that plating might affect the warranty.
From Watch Plate's FAQ:
Will gold plating my Apple Watch void its Apple Warranty?
It is possible. The process involves dipping the watch in about 3 inches of fluid for about 20 minutes total. This is much easier on the watch than Apple's recommended maximum of 3 ft submersion for 30 minutes. That being said, because this is a new service, we don't know how Apple's warranty policies could change regarding gold plating.
According to the company's website, Watch Plate is currently "flooded with orders." Looks like people are opting to plate.
See more imagery and learn more at WatchPlate.com.
Related: