Kama_s shared this jaw dropping Engagement Ring Upgrade on the Show Me The Bling Community at PriceScope.com. If you can stop looking at this then you are doing better than I am! I just keep looking at this one, getting lost in the glorious facets!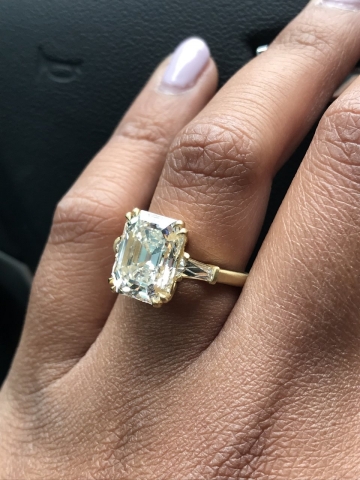 Look at thie incredible finger coverage
You simply must go and read the story of the traveling diamond! This diamond that got away traveled the globe and came back to her in miraculous fashion! She ultimately ended up purchasing it from Sam from IceRock Diamonds and couldn't be happier with the experience!
The Stats:
6.2ct Emerald Cut
Color: J
Clarity: VVS2
Go see the post with more pics! Follow me to the bling!
The Jewel of the Week is our chance to feature and appreciate a recently posted piece from the Show Me the Bling Community!
Thank you so much for sharing your jewelry experiences with us. We look forward to seeing more!
#JOTW
Do you know your basic engagement ring anatomy? Learn more about engagement rings, here.
Come show off YOUR fantastic bling with fellow jewelry lovers and trade professionals in the Show Me the Bling Community, here.