Tonks shared this magical Ring on the Show Me The Bling Community at PriceScope.com. This is one of the most unique pieces that I have seen in a long time, it's stunning and I love that it has seen some transformations as it is posted by Tonks whose member name is in reference to the feisty metamorphmagus in Harry Potter!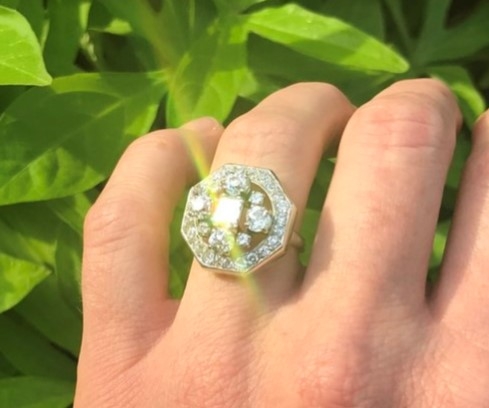 catching the rays
I am deeply sorry that you lost your beloved grandmother, Tonks, you have our condolences. This is such a fabulous piece to remember her with though, it will always stand out and keep her close in your memory. This ring was once a watch cover and while Tonks considered resetting all or parts of it, she ultimately decided that it is exactly right for her. She quoted Emma Watson when she said, "There's nothing interesting about looking perfect—you lose the point. You want what you're wearing to say something about you, about who you are."
Coming to love the perfect imperfections is what makes life great, and certainly adds a bit of magic. Gorgeous piece, Tonks, Thank you for sharing!
The Stats:
1 emerald cut, .52, I, SI1
4 old mine cuts, each approximately .27 (4.3 mm), I-J, SI1 to SI2.
4 round brilliants, each approximately 2.3 mm, H-I, VS1.
Octagonal frame is bead set old European single cuts, H-J, VS1-SI1.
Estimated tcw from recent appraisal: 2.68
Go read the awesome story with more pics! Follow me to the bling!
The Jewel of the Week is our chance to feature and appreciate a recently posted piece from the Show Me the Bling Community!
Thank you so much for sharing your jewelry experiences with us. We look forward to seeing more!
#JOTW
Do you know your basic engagement ring anatomy? Learn more about engagement rings, here.
Come show off YOUR fantastic bling with fellow jewelry lovers and trade professionals in the Show Me the Bling Community, here.