Carrotcake shared this lovely Engagement Ring on the Show Me The Bling Community at PriceScope.com. I know that you may have come to expect me to pick the biggest and blingiest of all the posts during a week, but I wanted to take a beat to also acknowledge our shared love of sophisticated beauty that doesn't always have to be seen from space (though we love that too). We just love your fabulous jewelry and love when you share the victories in your jewelry journeys. This is Carrotcake96's dream ring and that is a big win!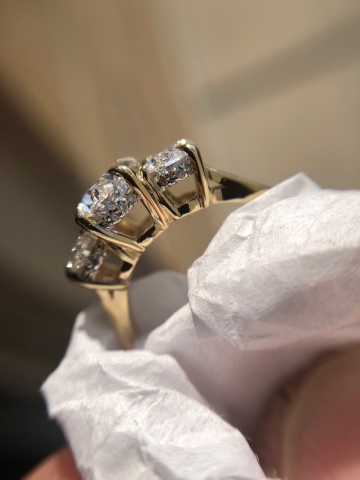 Pretty Profile"
Carrotcake96 is a newer member to PriceScope and we certainly hope that we will see more from her! We love to celebrate new bling and new members as much as long time members and older pieces of jewelry! Let's welcome carrotcake96 and see if we can't get her to post some more pics for us! Thanks for sharing!
The Ring Stats:
The center is 1.03ctw
The side stones are .35 ctw each
All of the diamonds are VS1 and I color, set in 14k yellow gold
The small round diamonds on the basket are set in 14k white gold
Go see the original post Follow me to the bling!
The Jewel of the Week is our chance to feature and appreciate a recently posted piece from the Show Me the Bling Community!
Thank you so much for sharing your jewelry experiences with us. We look forward to seeing more!
#JOTW
Do you know your basic engagement ring anatomy? Learn more about engagement rings, here.
Come show off YOUR fantastic bling with fellow jewelry lovers and trade professionals in the Show Me the Bling Community, here.