Upgradeable originally posted this stunning Princess set ruby ring on the Show my the Bling forum at PriceScope.com in July of 2012. That ruby's color is incredible and really creates quite the light show. I love a big pop of color and as we move into Fall, the reds, oranges, and yellows are calling my name. This ruby sings out and demands you take notice.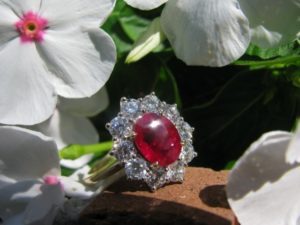 This gorgeous ring was a collaborative effort! The Ruby was sourced from Jeff Davis at Fine Gemstones and Jewelry, and the setting came from a PS fan favorite, ID Jewelry. This is a phenomenal piece that evokes thoughts of flowers and starbursts. This ring is simply gorgeous, yet far from simple!
Stats:
2.04 carat Burma ruby, light heat only, gemstone report from GRS
1.35tcw 18k princess mounting with yellow shank and prongs for ruby, diamonds mounted in white gold.
Click here to read more about this fabulous ruby ring and see a ton of awesome pics.
For Throwback Thursdays, we take the opportunity to re-appreciate beautiful pieces that have been shared over the years!
Thank you for re-visiting PriceScope's past with us each week on Throwback Thursday. Most importantly, thank you for continuing to share your jewelry experiences with us!
#TBT
PriceScope offers multiple jewelry search methods,  learn more about our searches here
Come show off YOUR fantastic bling with fellow jewelry lovers and trade professionals  in the Show Me the Bling Community, here.