Relative comparison of the Clarity and Color grades
Table 1.a. Carat, color and clarity of the diamonds used in the survey
---

No.

1

2

3

4

5

6

7

8

9

10

11

12

13

14

15

16

17

Carat

0.74

0.78

1.08

1.11

0.62

0.60

0.62

0.62

0.71

0.70

0.79

0.71

0.75

1.13

1.02

1.23

0.70

Color

GIA

F

F

H

G

I

I

G

H

H

H

E

E

H

J

E

G

H

AGS

F

F

G

G

I

H

G

H

H

n/a

E

E

H

I

F

G

H

EGL

E

E

G

F

H

H

F

G

G

G

E

E

G

I

F

G

H

Clarity

GIA

SI1

VS2

SI2

SI2

VS1

VVS2

VS1

VS2

SI2

VS1

SI1

SI1

SI1

SI2

VVS2

VS1

VS2

AGS

SI2

VS2

SI2

SI2

VS2

VVS2

VS2

SI1

SI2

n/a

SI2

SI2

SI1

SI1

VS1

VS2

SI1

EGL

SI1

VS2

SI2

SI2

VS1

VS1

VS2

VS2

SI2

VS2

SI1

SI2

SI1

SI1

VVS2

VS2

SI1

---
No.

1

Carat

0.74

Color

GIA

F

AGS

F

EGL

E

Clarity

GIA

SI1

AGS

SI2

EGL

SI1

No.

2

Carat

0.78

Color

GIA

F

AGS

F

EGL

E

Clarity

GIA

VS2

AGS

VS2

EGL

VS2

No.

3

Carat

1.08

Color

GIA

H

AGS

G

EGL

G

Clarity

GIA

SI2

AGS

SI2

EGL

SI2

No.

4

Carat

1.11

Color

GIA

G

AGS

G

EGL

F

Clarity

GIA

SI2

AGS

SI2

EGL

SI2

No.

5

Carat

0.62

Color

GIA

I

AGS

I

EGL

H

Clarity

GIA

VS1

AGS

VS2

EGL

VS1

No.

6

Carat

0.60

Color

GIA

I

AGS

H

EGL

H

Clarity

GIA

VVS2

AGS

VVS2

EGL

VS1

No.

7

Carat

0.62

Color

GIA

G

AGS

G

EGL

F

Clarity

GIA

VS1

AGS

VS2

EGL

VS2

No.

8

Carat

0.62

Color

GIA

H

AGS

H

EGL

G

Clarity

GIA

VS2

AGS

SI1

EGL

VS2

No.

9

Carat

0.71

Color

GIA

H

AGS

H

EGL

G

Clarity

GIA

SI2

AGS

SI2

EGL

SI2

No.

10

Carat

0.70

Color

GIA

H

AGS

n/a

EGL

G

Clarity

GIA

VS1

AGS

n/a

EGL

VS2

No.

11

Carat

0.79

Color

GIA

E

AGS

E

EGL

E

Clarity

GIA

SI1

AGS

SI2

EGL

SI1

No.

12

Carat

0.71

Color

GIA

E

AGS

E

EGL

E

Clarity

GIA

SI1

AGS

SI2

EGL

SI2

No.

13

Carat

0.75

Color

GIA

H

AGS

H

EGL

G

Clarity

GIA

SI1

AGS

SI1

EGL

SI1

No.

14

Carat

1.13

Color

GIA

J

AGS

I

EGL

I

Clarity

GIA

SI2

AGS

SI1

EGL

SI1

No.

15

Carat

1.02

Color

GIA

E

AGS

F

EGL

F

Clarity

GIA

VVS2

AGS

VS1

EGL

VVS2

No.

16

Carat

1.23

Color

GIA

G

AGS

G

EGL

G

Clarity

GIA

VS1

AGS

VS2

EGL

VS2

No.

17

Carat

0.70

Color

GIA

H

AGS

H

EGL

H

Clarity

GIA

VS2

AGS

SI1

EGL

SI1
Table 1.b. AGSL and EGL USA Grading Compared to GIA-GTL
---

 

AGSL (out of 16)

EGL USA (out of 17)

Clarity

Stricter

9 (56%)

6 (35%)

Same

6 (38%)

10 (59%)

Softer

1 (6%)

1 (6%)

Color

Stricter

1 (6%)

1 (6%)

Same

12 (75%)

4 (24%)

Softer

3 (19%)

12 (71%)

---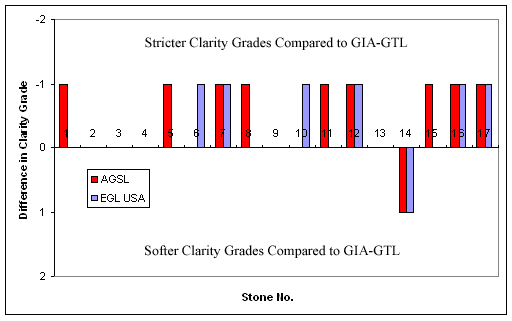 Figure 1. Difference in Clarity Grades Compared to GIA-GTL. Below the line corresponds to softer grading (higher grade) and above the line is stricter grading (lower grade)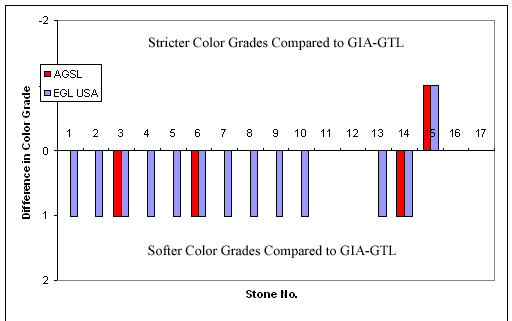 Figure 2. Difference in Color Grade Compared to GIA-GTL. Below the line correspond to softer grading (higher grade) and above the line is stricter grading (lower grade).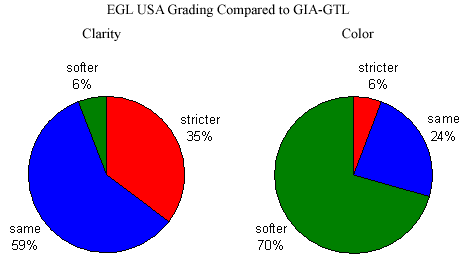 3.1.1. Stone # 10 GIA Resubmission Difference
This diamond already had a GIA-GTL report (Oct. 2003) and was inadvertently resubmitted to GIA-GTL. It was to have been sent for an AGSL report, which explains the absence of AGSL data. The second report (April 2004) received the same color grade but a one grade stricter clarity (VS1 down to VS2). For consistency purposes a comparison was made using the first GIA-GTL report.
Other notable differences on these two reports in chronological order were depth percentages of 61.6% to 61.8%, table sizes 57% to 56%, girdle "Medium to Thick" compared to "Medium to Slightly Thick".There was a small dimensions difference: 5.67-5.70×3.50mm compared to 5.67-5.69×3.51mm. The most recent report had a comment "Clouds are not shown". Both plots appear similar. Both sets of proportion data (and that from the EGL USA report) were entered into DiamCalc, the OctoNus diamond modeling software, and it was found that girdle thickness was likely to be on the thicker side of slightly thick for the stones carat weight.
discuss  

« Results   |   Cut Grades »