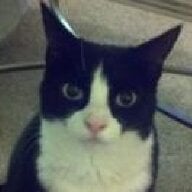 Joined

Aug 8, 2005
Messages

40,225
This is a little premature as I don't have the complete prices for these in yet... but thought I'd ask for your opinions anyway. Here is my current ring on my hand. Ring size is 6.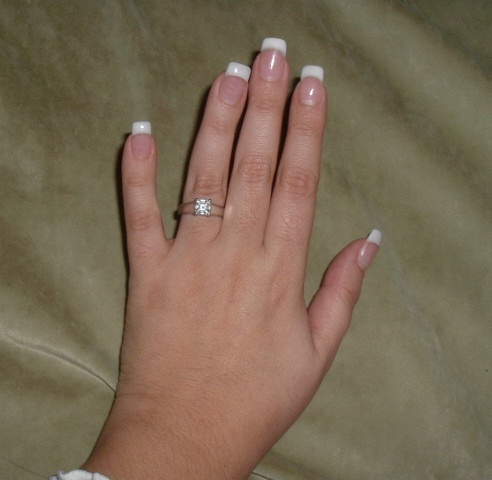 PLEASE, PLEASE don't hold back your opinions... your HONEST opinions are welcome 100% and I won't take offense to anything you say.
Here are the options: 1-- custom baguette halo. 2-- Richard Landi split shank with offset diamond. 3-- I'm driving you crazy and you just don't care.
Here's my blub about the baguette halo:
Plus side: It is unique and it makes my asscher look bigger, and I love the idea of a deco inspired setting for my asscher. Downside is: it's custom so it's not going to be perfect... especially since it's a difficult and 'groundbreaking' for Quest design. AND platinum is very expensive right now. And I'm afraid of not loving it because it's not my 'usual' style.
Here's the pic: please ignore the band pictured.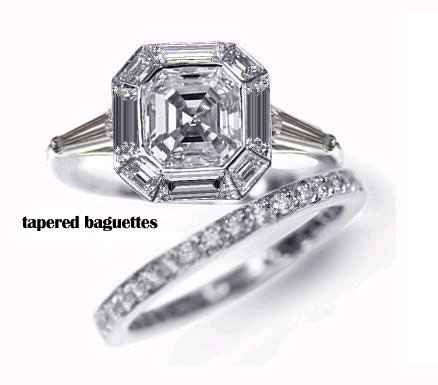 Second is a Richard Landi setting I found at a local jeweler... he has it is stock so I would be paying last years platinum prices for it, getting the
monster
prongs slimmed down and
adding
pave to the prongs. My asscher would be set in it like a baseball diamond. Tim at
GOG
and Strm have both said that setting it this way will not be dangerous as my diamond is an asscher and has a thick girdle. It's about the same width as my current setting in total.
Here's my blurb:
Landi split shank will be unique with my asscher offset and it's not custom... I looked at it under a loop and it's flawless. With the designer doing the rest of the work to it... it's likely going to be perfect when it's done too and it's priced at 'last years' platinum prices so I feel like I'm getting a good deal. Downside is: Despite Tim and Storm's assurances I'm nervous about setting my diamond like that-- and I don't like it set 'normal' in the setting.
ETA
: This setting won't make my diamond look bigger and I've got DSS.
Here is the pic of it 'set' with a 8x8 CZ my asscher is 6 x 6.
Side view: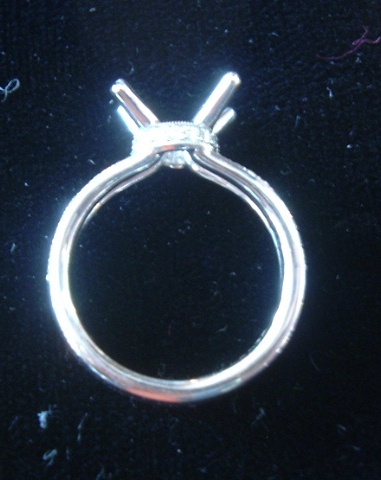 Hand shot: