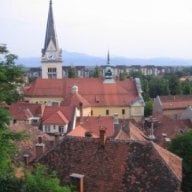 Joined

Oct 20, 2007
Messages

6,405
Right now I'm wearing my diamond studs nearly everyday. I've started thinking about an upgrade and have started the process of looking to see what I can afford. They are the only stones I wear on a daily basis and while they are sweet looking and a go-to staple, I want something a bit more POW!

I currently wear 0.71 ctw OECs which measure approx 4.35mm across. I'm considering 1.20 - 1.50 ctw earrings, OECs, and hoping to get approx 5.4-5.7mm across. I've looked at the earring thread and still just can't decide what I might want.

I do plan to look at a couple of pairs (can't try on pierced earrings over here) - but in London there just aren't the stores there are in the US. Or maybe there are and I either haven't found them or don't feel comfortable in them.

What's your sweet spot for earrings and why? What look at your trying to achieve? Do you wear them for everyday or are they blingy for going out?