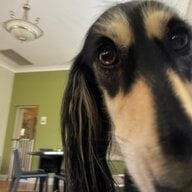 Joined

Jan 22, 2014
Messages

3,784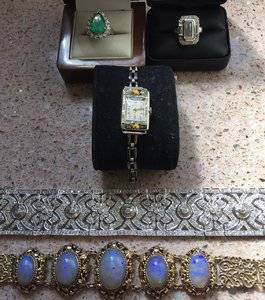 just for fun.
Not necessarily the family heirlooms that you'd never sell anyway, but your 5 most special pieces that always make you smile and their story (if there is one you care to share).
Mine.
1. My emerald and diamond dress ring. I bought this off eBay over a decade ago, it was such a stab in the dark, no decent photo (seller was disposing of inherited pieces) didn't even call it an emerald. It was stunning and I'm still in awe. I paid $600.
2. My engagement ring. This is the reset of my dreams and it cost an arm and a leg. Oh well. The original ring, from the second I saw that Art Deco era emerald cut diamond (so long and slim) in the window she had to be mine. My poor "to be fiancée" didn't even know diamonds came that size and could cost so much!
3. My Elgin "Lady and the Tiger" watch. This was on my "to buy list" for years. As Elgin is American watch maker and none were ever seen here in Australia, instead I stalked American Auction sites, online antique vendors even eBay. They sold for thousands usually. Apparently one was once sold for $11,000. Condition is important, the enamel is often chipped and original watch faces refinished and winders replaced. You always want as close to original as possible. I got lucky with an eBay listing (it's a jungle out there) it was an auction, starting at 99 cents, I cheekily emailed the seller and said "I'll give you $1,000 now". It was accepted and this almost totally perfect Elgin watch became mine. It had no watchband. I then spent another 2 years searching for a correct period watchband and came across an Art Deco black enamel one which I bought.
4. My Art Deco diamond bracelet. I was retrenched from my job about 15 years ago and was both devastated and in shock. I received a substantial termination payment for my over 10 years service. Catching the train home on my last day I walked through the Queen Victoria Building (here in Sydney Australia) where possibly THE most expensive antique jewellery shop is, and I saw the bracelet in their window. I just walked in and bought it. It is total Hollywood. To this day I still can't say out loud how much I paid for it! It was way too much!
5. My Australian Opal bracelet. How I love opals. This treasure I've had 20 years. Bought here at a local auction, no one was interested - why? I have no idea, it's glorious. Absolutely stunning in my opinion. But Aussies have a weird dislike of opals, some say they are bad luck. Whatever. I paid $500 for it.
So, what are your special pieces ?