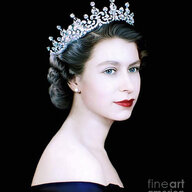 Joined

Oct 24, 2012
Messages

5,438
I have always had The Bracelet Bug, as you know. I added 3 Tiffany bangles for my Birthday to stack with others on my RH. But I've discovered that these are only worn on occasion & really at heart, my 2 Tiffany plat DBTY's are where i'm at. I've worn these pretty much 24/7 for 9 years stacked snugly next to my watch. They're classy, understated, easy to wear & just very "me".
I've been trying to decide what I felt was missing & settled on something also fine chained, but in rich buttery 18ct yellow gold. Nothing at Tiff's shouted at me & I didn't want to add another of their DBTY's. That would be like having 10 pairs of identical shoes in different colours

Last week I stumbled across The One. It's 18ct with 3 small unheated bezel set square Burmese Rubies. I stalled, going back & forth over the cost, but this morning I pulled the trigger. Will start a thread when it arrives. Excited!