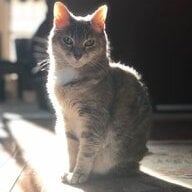 Joined

Jun 17, 2009
Messages

14,020
Thank you so much my dear

@junebug17

!!! Poor DH almost had a heart attack today. We are still on vacation and today we stopped at a famous ice cream place. While we were there, I went to the washroom and I took off my ring in order to wash my hands (how stupid, I know). I forgot the ring there, went out and continued walking around with DH and DD when all of a sudden I realized that the ring was not on my finger and that I had forgotten it at the washroom. I started running back to the ice cream place as if I was running for my life. I didn't even tell DH and DD where I was going. They stood there, speechless, watching me running and didn't know what had happened. Thank God, my ring was still at the spot where I had left it. I would have NEVER forgiven myself if I lost it like this. Brrr....still getting the chills thinking about this incident.
Oh no!!!
@Natylad
, you must have nearly fainted when you realized! Something similar happened to me recently and I still get anxiety whenever I think about it LOL. I am SO glad it was still there and now back on your finger!!
eta...Now push this out of your mind and go back to enjoying your ring and your vacation!! <3
Last edited: