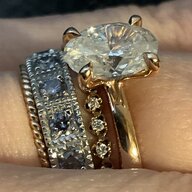 Joined

Apr 17, 2006
Messages

2,258
I'm currently doing a bunch of projects with DKJ.

1. Remaking my wedding ring. It's been polished so many times, it's become thinner than I like and bit 'sharp', so I'm combining it with another ring my husband gave me some years ago, and remaking it thicker and wider.

2. An eternity in platinum. This will be roughly 4.3ctw - 16 x .27ct diamonds, all E color and VS clarity, ideal specs.

3. A solid yellow gold heart, which will be a birthday gift from some friends. Very plain, but nicely curvy. Not too large - roughly 16.5mm in each direction.

4. AT LAST - a Gloria Floria with a blue sapphire center. Platinum.

5. A new gypsy ring - in 18kt yellow with a .8ct K SI1 AVR. (

Gorgeous

little diamond!)

6. Lastly, I'm also working with DKJ on a 5 stone ring for a good friend of mine to give his wife - my best girlfriend. 1.6ctw of ideal cut H colored VS stones in a platinum head with yellow gold shank.

Looking forward to this showering of self indulgence some time in the next 4-8 weeks!
Wow… 4-8 weeks for all of that… mighty fast. Looking forward to seeing the results.
I saw that AVR for sale and am glad someone got it.
I made an impulse purchase of 2 earth-mined rosecut diamonds from Alex Park a few months back. I know I am a little late to the rosecut party, but I have become obsessed with them and their subtle sparkle. I always have loved champagne and fancy brown diamonds that have a pinkish hue. After much thought on how to best showcase these beauties, I finally have a direction.

The M color diamond is becoming a pendant. It will be the center with a floral inspired design surrounding it. I found an antique ring design during my search that I kept coming back to that I just love. We are using this as inspiration for the pendant design.

The fancy brown diamond will be a ring I wear on my right hand middle finger. I love the idea of a gypsy ring but a little concerned the high dome rose cut might get hit when I am wearing it. Any suggestions are welcomed!

I am working with Amy at David Klass. She doesn't know about the ring project just yet….I want to have a better idea of direction first.
Welcome to Club Rose Cut. They are so pretty.