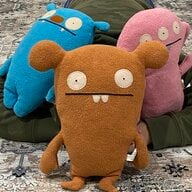 Joined

Oct 24, 2012
Messages

12,506
Hi Everyone,
Happy new year!
I thought it would be fun to start a thread on sharing what your 2016 bling project(s) are at the beginning of the year, and see where we end up at the end of the year, and maybe do check ins along the way. I think it's funny and interesting how our tastes/priorities/circumstances change and how we end up feeling about it. Maybe not buying the thing that you had wanted for a while turned out to be a good decision. Ok, I will start.
I'm currently craving a full eternity of 30 pointers thanks to my five stone. There are definitely pros and cons of going that route and I will see if I can think more clearly after some time has passed, after the initial infatuation has died down. There is also a Cartier piece that I have admired for several years now, but struggle mightily justifying it. All purchases will have to wait but I love the planning part.
What are you all thinking about?