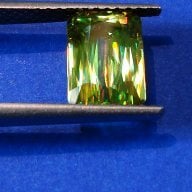 Joined

Sep 17, 2008
Messages

8,888
So I've decided I wanted some play pearls and learn how to string, so I got some super cheaps off ebay.
Here's an image with the pearls I could fit in the picture. The lighter colored pearls are all freshies, all previously owned by me and from pearllunar sans the baroque strand (from a gemshow). The purples are also freshies, not dyed. (had some left from the strand and well, you know...had to check that out!!!

). Those are in the picture for scale.
The ones that I just bought from ebay are the dark ones. They're supposed to be tahitians. One set looks like they are. They're not the prettiest things on the planet (well some have ok color to them) but thats ok too...lol The others , not so much. They look NOTHING like the auction image, not even the same shape. I'm wondering if they're dyed. I'm going to pull one off and dremel it to see.
The holes are quite small and the knotting on them is actually quite good. If only I can get that good...lol
Thankfully they were mega cheapies so I won't care if I happen to drop one or lose a few. I plan on cutting them loose and giving it a whirl this weekend, plus I can take these with me when I travel with no worries.
BTW, the strands are in NO WAY this bleached out IRL, pricescope picture sizer strikes again!!
They turn to like a silvery smokey bronzish brownish gray in direct sunlight. in a way, kinda cool. In another way

, kinda ugly. That significant of a color change, is that a normal attribute for tahaitans that have not been dyed? My freshies change which I like, these...well..it may be an acquired taste!
-A