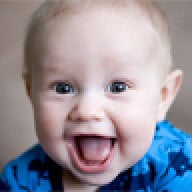 Joined

Jun 28, 2006
Messages

3,960
I am sooo behind on this! Last year I had all of his presents picked out by October. This year we''re only about 2 weeks away from Christmas and I have nothing! Not even any ideas! We''ve just had so much going on over the last few months that Christmas shopping kept getting pushed later and later...Help!

He really wants a big screen tv, which we''re saving for but can''t afford yet. We got a PS3 on launch day, which he told me yesterday was his engagement present (...I thought it was supposed to be the tv...). He said I could just get him some new games or something, but I feel like he''ll just buy those for himself anyway. I''m having such a block! Agh!

Some background info on FI: He''s 24, a software engineer, loves gaming (PS3 and Computer)

Help!!! Help!!! Help!!!