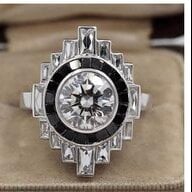 Joined

Jun 19, 2010
Messages

3,556
I'm going to be very vague with this post (but probably so transparent that you'll all roll your eyes at me), but I need some expert advice.

I'm on another kick for a new stone. I have one now that's an amazingly perfect color, but the cut is only so-so (pretty evident window, which is always a big negative for me - I can handle inclusions), HOWEVER it cost next to nothing in the grand scheme of things and with the $$ saved, i can set it almost immediately and have 100% instant gratification. Now on the other hand, I have the chance to buy an amazing precision cut stone with what looks to be the same color quality as what I have. It's a touch bigger (just "bigger" enough) and also has a bit of a weird shape (even though it's precision, bear with me). Of course it's A LOT more expensive, and really what one would expect to pay for this type and perfection of stone. I have the $$ for the stone, but then would have to wait a while for a setting.

So as happy little CS'ers, what would make you happiest? Not-so-perfect inexpensive stone, set now? Or more expensive stone, set later?