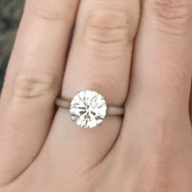 Joined

May 7, 2010
Messages

606
I know I'm not the only one who spent the last year watching the 4.2ct N AVC. I noticed about a month ago that it was no longer listed on GOG, so I just kicked myself for not buying it when I had the chance and moved on. However, I was just checking inventory for a possible RHR and it's back... but at a MUCH higher price. 16k increase from a few months ago.
http://www.goodoldgold.com/diamond/7145/
All I can say is wow.