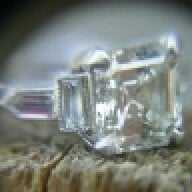 Joined

Mar 1, 2007
Messages

682
Hello guys!!
I am yet another lady looking endlessly for a square emerald (or asscher style--not nec a RA type) in the 2-2.5ct range. I have located a really pretty 2ct/ h/ vs1/ 7.3x7.3 in a local store that is a really good price, sparkly, and fits all of my personal criteria for my size 5 finger
. So what''s the problem? The problem is that with spending that kind of dough I want to make sure that I am getting a stone that I will not IMMEDIATELY start getting shrinkage with!! I have totally spent too much time online looking at these honkers that Leon Mege has set in these rings, etc!!! SOOOO, would you ever consider an asscher in the "j" color range, but keeping a clarity range of vs1 or vs2 or is that going to scream BIG YELLOW STONE? There is a stone on
BLuenile
right now that is a j asscher, vs2, with a nice spread close to 8mm that is tempting in the $10k range. I guess you probably get what you pay for and mabey the stone is colored and lifeless...... I''ve heard conflicting info on the effect of color on steps and have seen some I''s that I thought were really good......
Any input? Anyone want to swat me for being a spoiled brat about wanting a bigger stone....Anyone...Anyone...