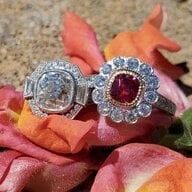 Joined

Aug 22, 2012
Messages

7,329
Hi everyone. This ring is likely going to be available to me from a coworker. David Klass has seen it in person and gave an inflated insurance value and I am not concerned about if it is actually sapphire and diamonds. It is an old cut sapphire and the diamonds are OECs. The diamonds look to be conservatively .30-.35 each and pretty white facing. The sapphire color is amazing in person and is probably 2.5-3ct or bigger. I will not have the opportunity to send to AGL before buying but will definitely after for a full prestige report to include origin. My plan is to take the ring apart because this is just not the style for me and create a 3 stone with the sapphire and two diamonds. Then a 5 stone with the rest leaving one left over. My coworker had David create a matching band for the other side of the ring and all the small diamonds might make a great channel set eternity. The price we are negotiating right now is $4-$5k which is more than he paid for it even after having the second band made. Yes I said he, and he wears over the top bling. It was a pawnshop find.
Am I out of my mind? I would think the diamonds might be worth half of the cost at least? I am guessing at the stone sizes based on others I have and David did not measure them for a formal appraisal. The ring is a size 8 and my pointer wears an 8, my finger in the pics when I had the ring last year.
Thank you so much for your help and thoughts!
ETA: He paid less than the $4k we are negotiating. Not more. He actually paid $1900 + $1100 to have the second band made. I offered $4k because I believe it to be worth that.