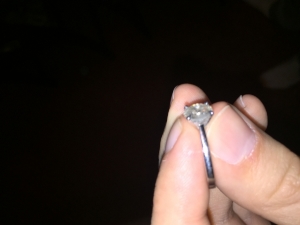 I appreciate anyone's help.
I bought a diamond ring, I couldn't afford a new one and at the same time I wanted to see my gf got a decent size.
The diamond is a 1.5ct k coloured diamond described as I1.
I've come home and put it under my torch, whilst I know there would be inclusions I'm a little suspicious about some of the markings.
A perfect white-ish line runs around the ring below the fascia, all round. And there is a part where this marking goes a little into the ring.
I've added some pictures, it would be great if someone could shed some light on this, it almost looks like someone's glued a new fascia on.