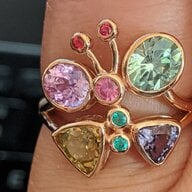 Joined

May 13, 2018
Messages

4,725
I have purchased this beautiful emerald cabochon. It's inspired a ring design that I picture as a bright, happy beach-colored, ocean themed treasure platter, but it's presenting such a challenge for me to communicate with the jewelers.
Sometimes I have a hankering for a nice green jade cabochon ring, and although this emerald cabochon isn't jade, under some light settings, such as the setting California sun, it positively glows just like my idea of an imperial green jadeite.
Should I just scrap my ornate design and go with a simple diamond halo, which I know I will enjoy? Or persevere to try and create an original "art" piece that will cost more and will probably get worn less?
The ornate design would feature the emerald set E-W, but if I were to do a classic white diamond halo in platinum, I would probably have it set N-S.
Calling
@icy_jade
@Burmesedaze
@mellowyellowgirl
@Bluegemz
and anyone else who has jade cabochons set in a diamond halo to comment and hopefully provide some inspiration pics as well!
Edit: I just realized my poll question is asked the opposite way of my title, so if your opinion is no, it's not blasphemous, you should vote yes! I can't seem to change the poll question now that I posted it. Doh! :facepalm:

Last edited: