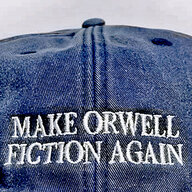 Joined

Apr 30, 2005
Messages

32,287
I wonder if the human body can continue functioning if it weighs 2000 pounds, but that is this woman's goal.
Can a heart even pump blood through all that mass?
This Arizona mom says she feels sexier, healthier and gets more attention from men as her weight goes up.
She says, " I want to break the stigma that being fat is a bad thing."
SNIP:
A MODEL who claims to be the world's fattest mum wants to keep bingeing until she weighs a TON.
Obese Susanne Eman — who weighs 52st — gets her kids to help her fill six shopping trolleys with food whenever they go to the supermarket.
And she said she has upped her gargantuan intake to see if she can become the world's heaviest woman in history.
The mammoth mum of two — whose sons accompany her on eight-hour shopping trips for food — says she wants to reach at least 115st, or 1600lbs, by gorging on 21,000 calories a day.
Susanne, 32, from Arizona, USA, said: "I'd love to find out if it's humanly possible to reach a ton."
She even plans to increase the amount she eats to keep gaining weight.
Susanne's daily food intake:
Breakfast
6 x eggs scrambled, cooked in butter 468 cals
1/2 pound bacon 1,168 cals
4 x potatoes as hash browns 672 cals
6 x pieces toast with butter 600 cals
32 ounce cream shake 1,160 cals
Snacking
1 x bag of animal cookies 1,950 cals
2litre bottle of soft drink 800 cals
1 x 10.5 ounce bag of barbecue flavour crisps 1,650 cals
3 x ham and cheese sandwiches 1,576 cals
Lunch
3 x beef, bean and green chilli burritos with 1 x cup of sour cream 1,453 cals
Salad (1 head lettuce, 1 cup cherry tomatoes, 1 cup carrots, 1 cucumber, 1/2 cup
ranch dressing, bacon bits, 1 cup crumbled cheese, 1 cup chicken 1,479 cals
Dinner
12 x filled tacos + 1 x cup sour cream 4,906 cals
2litre bottle of soda 800 cals
Dessert
8 x scoops vanilla ice cream 2,080 cals
1 x small pan of brownies 1,200 cals
Total 21,962 calories
http://www.thesun.co.uk/sol/homepage/news/3757881/Worlds-fattest-mum-vows-I-want-to-weigh-one-ton.html?OTC-RSS&ATTR=News