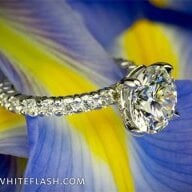 Joined

Jan 30, 2007
Messages

808
Hi one of my girlfriends keeps a little box of windex wipes in her car and wipes down her e-ring with them and her other diamond jewellery when she thinks they are dirty but she doesn''t have time to give them a good clean.
Any ladies on here do this?
I have heard you can clean diamonds with windex but do you think the wipes are ok to use too?
Just wondering if anyone has heard of this being done before? I think it might be a good idea if they are safe to use but I''m not sure.
Thanks