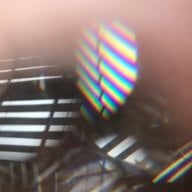 Joined

Aug 7, 2013
Messages

1,382
Well, maybe not quite Wilma-sized pearls! But I'm looking for a 16- or 17-inch classic strand of white pearls. I have 12,000 pearl points at Pearl Paradise, but I don't have to get this item there. I'm open to pre-loved, but it seems that prices that people are asking can be as much as the sale this month at many vendors.
QUESTION!
I have a strand of multicolored AAA freshwater pearls from PP, size 8.5-9.0 — visually, how much larger is 9.0-9.5 when compared to that... or 9.5-10.0? Should I stick with 8.5-9.0? Size is a huge consideration for budget, of course!
I am satisfied with my AAA strand. I see the egginess of some of the pearls, but it doesn't bother me when they're worn.
Budget— I'm a bit flexible, but any more than $1200, and I start playing with "scared money" that belongs to my watch fund.

I'm kind of all over the place with this purchase and I'd love some thoughts from others to help guide my decision!