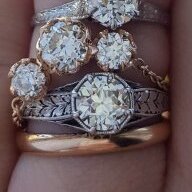 Joined

Sep 5, 2016
Messages

22
Hello all! I am new here and heard that you lovely and knowledgable people are willing to help those of us who don't know too much about diamonds! I have come across a rather pretty ring, but want to know if the diamond is cut well/will peform well and if it is a good deal for what it is selling for. It does not come with a GIA or AGS cert, but rather an appraisal that has the following information:

Measurements: 4.75-4.70 x 2.92mm
Weight: .39 ct
Table: 60
Girdle: Unpolished medium
Polish: Very Good
Symmetry: Good
color Grade: G
Clarity Grade: VVS2
Gross weight of the ring: 2.66 grams
Metal: 14k white gold

Ring comes with a wedding band as well, but the weight of that ring is not listed; it is just a plain engraved white gold band.

The total cost for both are $585.

Any opinions? Thanks for the help!