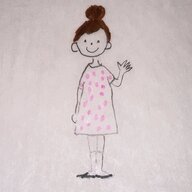 Joined

Feb 2, 2016
Messages

8,063
Sometimes I'm afraid I come across scatter-brained, this is something I started considering before I had the prongs fixed on my halo.
The Dahlia is my dream setting, I have loved it since I first joined. In particular I like this iteration made by DK: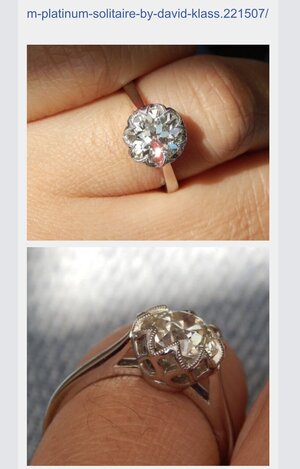 Photo credit to D&T
Now I have this OMC and I was thinking it might be perfect for the Dahlia as the yellow gold head would really compliment the diamond. Wondering thought if an OMC will work in this setting with the high crown? It is pretty round so that's a plus because that's not always the case with this cut. Also it is 6.5mm so it be probably the smallest diamond put into this setting to date.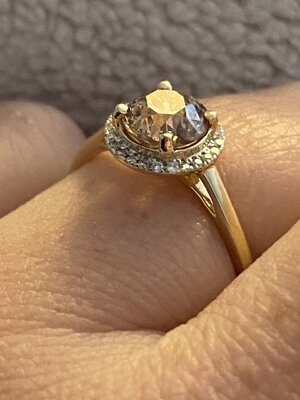 I would also obviously be losing the contrast with the halo. I've already been in contact with DK so now it's just a matter of deciding what to do.
I'm slightly worried that this brownish yellow OMC will look off without some sort of white contrast but I learned that it absolutely has to be in a yellow gold head otherwise it looks terrible.
Any thoughts/opinions are appreciated. The poll only has three options because of the Dahlia won't work then I'm just going to stick with what I have.
Here is a pic of the stone head on: