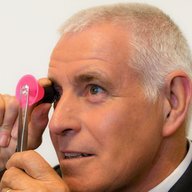 Joined

Aug 15, 2000
Messages

18,349
These stones all have 70 % table and 70% depth %.
The crown angles on princess can vary enormously. They are not tied together either the way the minor facets on a round diamond are. For example one of these images has a 60 degree lower crown angle and a 25 dergree upper crown angle. Sarin and Ogi scanners are also incapable of measuring these angles - and there are only 2 Helium scanners (that can do it) in USA.
The same rules apply as the 60 60 page on the tutorial - the table and depth % do not tell you if you have a 5% crown height and 65% pavilion, or a 15% crown and 55% pavilion depth.
But wost of all - the critiacal pavilion - it can have 5,7 or 9 chevrons on the pavilion (5 in this example) and they can be all 2 degrees different or much more.
And then we have the Big triangluar pavilion facets - if the corner central chevron was say 39 degrees - then in the case shown - the big triangular facets can vary between 40 degrees and 60 degrees.
If you want to check out a princess sight unseen - then demand an ideal-scope photo.
A sarin generated gem adviesr is better than nothing - some overseas manufacturers have Helium scanners, and they will be providing their stones with Gem adviser files and this is the best method.
We wil soon see the first AGS graded princess cuts on the market - they will be good because they are using good technology, including the ASET scope - which is a multi colored ideal-scope. This helps to tell if the light return is from better light supply directions etc.