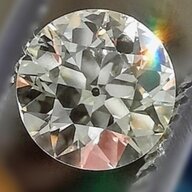 Joined

Jan 20, 2018
Messages

153
I recently took my 18k WG RB & Baguette Half Eternity Band to it's Yearly Check up lol but this Year I opted not to have it Re-Rhodium Plated as I find on my Fingers the Shiny Rhodium Finish doesn't last too long with daily wear & goes almost foggy before long - When I mentioned this to my Jeweller he strongly urged me against having "Bare Naked WG" saying it will look dull/lack lustre & that I should instead opt for the Rhodium Plating again - I'd like to add this yearly Polish & Plate service is free so there is no Financial Gain for the Jeweller so I just wondered why Unplated WG is viewed almost Taboo by some Jewellers/Vendors.
I absolutely adore the Unplated Polished End Result much more than the Rhodium Plated Finish the Soft Muted Gold Colour is Beautiful & at the moment it has a stunning Mirrored finish high Shine as you can see in the Pics but I look forward to seeing its natural Patina after a few months of wear - I understand that it's all personal preference but what is the overall Motive to push Rhodium Plating in the Jewellery Industry?
Is it give Pieces a Higher Shine/Sheen under the Store Lights? Or to encourage Customers to come back Annually to have them Replated?
Questions, Questions lol I hope this doesn't seem a Dumb Topic but after my Jewellers reaction I needed a wider consensus