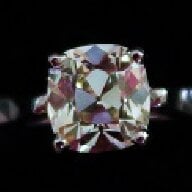 Joined

Dec 6, 2006
Messages

1,630
New diamonds that is. Just wondering.
Most merchandise, at some point, go on sale. Car dealers have rebates or incentives of some kind, clothing, furniture, travel rates etc.
Why not diamonds? I`ve seen it maybe once a while back when a vendor was promoting their new site but I haven`t seen it again in a long time. I see that some vendors offer a PS discounts or wire price discounts but not a true "sale". Why is this?
Maybe they do go on sale and I just haven`t noticed.
Cachette