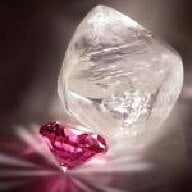 Joined

Jun 6, 2011
Messages

995
I must admit I'm very confused. At least once a day someone will come on Rockytalky and ask for an opinion on an EGL stone after saying that they have done their due diligence and research.

The answer will inevitably be that EGL is not as reputed as GIA/AGS, and that although it is certainly possible that the stone in question is exactly as mentioned on the EGL cert if it were graded by GIA/AGS, the likelihood is very slim. Because EGL is either loose in its grading or lies outright.

So in essence, an EGL cert to the people at PS means nothing as it does not give a baseline to compare against other stones. Then some PSer will do a search of EGL stones on the PS vendor database and come up with a stone that is much cheaper with similar EGL specs.

Following which we will recommend a GIA/AGS certed stone in the same budget, but it will usually ON PAPER look like less of a deal to the OP.

Then tomorrow will dawn, and everything will happen again the exact same way. Is there a way to sticky what you should do if you are considering EGL stones? Or what you should be aware of?