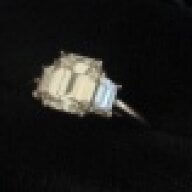 Joined

May 15, 2005
Messages

2,360
First, I never thought of Acura's as a luxury brand. But maybe that is just because of where I am from...
As one of the "teens" that "tarnished" the luxury perception of Tiffany by purchasing some of their silver, I personally feel that instead of attempting to price out the market, perhaps they could make an accommodation, similar to the floors at the 5th avenue Tiffany (one floor silver, the other diamonds and gems for the more "wealthy" customers).
Winternight- While you are entitled to your opinion, I found your comment slightly offensive regarding being "mobbed by teens". You just wrote that "the front of Tiffany, where the expensive stuff is, is totally dead, while the back with the sterling is full of people". If that the case, and you are the wealthy shopper in the front, you wouldn't run in to many "teens". At least, all of the Tiffany's I have been to are large enough that this does not happen. I also disagree that one does not find affordable items at Gucci, LV, or Prada. Don't you recall those small little Prada, Gucci and LV purses that were around $200-300. That seems similar to the current sterling pieces at T&Co.
In any case, if T&Co becomes more exclusive, fine...I just find it a bit sad at the principle...