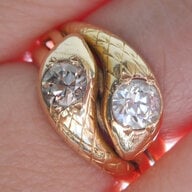 Joined

Feb 11, 2011
Messages

496
I'm not sure if this topic has been covered, but I did a search and didn't find anything. I also wasn't sure where to post this thread but hangout seemed the best place.
So... who here has more than one piercing in each ear? I have 2 piercings in each ear. The question I'm really interested in though is, what do you wear in your second (or third, etc) ear piercings?
I got my second set of ear piercings in high school, and back then I used to wear sterling silver studs in my ears. Sometimes I would wear hoops in the first piercings and studs in the second ones, or what I usually wore was gemstone studs in the first ones and tiny sterling silver ball studs in the second ones. As time has progressed, I find myself leaning more towards wearing yellow gold, white gold, and platinum. So lately I've been wearing 14kt yellow gold 2-2.5mm ball studs in my second piercings and diamonds ones in my first piercings.
I've just started wearing white metals the past couple of years and I realized that I need some white-metal studs to go in my 2nd piercings. Does anyone know where to find size 2-3mm ball studs in 18kt white gold, platinum or palladium? I've found one seller on Etsy who sells 3mm 18kt white gold studs, but for some reason, it's hard to find anything smaller. I'm wondering if I should just wear sterling silver ones again...