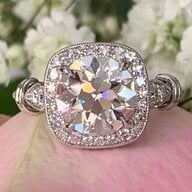 Joined

Jan 11, 2006
Messages

58,472
It is hard to put into words how wonderful this weekend in Houston was! I still cannot believe my name was drawn to go (thanks PS!)! Bright Ice, tyty333, and Andelain joined me there, and we had the pleasure of meeting up with some Houston PSers, Alpha238, Kroshka, and MrKroshka! We arrived in Houston on Friday and Alpha238 kindly picked up three of us who arrived close together at the same airport, and Andelain came from a different airport a little later. We stayed in a beautiful area of Sugar Land just a short walk from
Whiteflash
! There were great restaurants right near the hotel (loved Escalante and Lasagne House), and we literally enjoyed every waking minute! Lots of fun and laughter!
On Friday morning, we began the day meeting Debi Wexler for breakfast. She is just a lovely person and really made our visit so special! After breakfast, we went with her to
Whiteflash
's beautiful showroom and offices. Our first stop was to see the amazing Esperanza diamond, which was the main reason for our visit! If you haven't heard of the Esperanza, it was a rough diamond found in Arkansas in 2015 and expertly cut in the US by master diamond cutter Mike Botha of Embee Diamonds. More about the famous diamond here:
https://www.gemsociety.org/article/master-diamond-cutter-mike-botha-takes-esperanza/
The Esperanza is on tour at a select number of AGS Jewelers in the US, and
Whiteflash
is one of the few selected to showcase the stone.
Whiteflash
generously wanted to share this experience with diamond lovers from PS and offered a drawing of members who were interested in going.
After time viewing and even getting to try on the famous diamond (very carefully, I might add!), we had lunch at
Whiteflash
and met many of the wonderful people who work there! It was a pleasure to spend time with Brian Boyne (Texas Leaguer) who is so knowledgeable and genuinely nice, too! In fact, every person there was extremely nice, from sales, photography, production and bench, management, shipping, receptionist, and various other staff members. I could name many of them, but because I don't want to leave anyone out, I am just going to refrain from doing so here. After lunch we had a tour of the entire facility which is top notch in every way! Then we tried out some mega diamonds (thanks Brittany!) and some other diamond jewelry, which was a LOT of fun! (I will start another thread in Show Me the Bling to show some of the jewels we viewed at
WF
and various places over the weekend. My wireless isn't working, so I will need to wait and download my phone photos tomorrow.)
Our little excursion was initially planned for 11:00-1:00, but we were told we could stay as long as we liked. You can imagine what that meant...we were there until they closed at 5:00pm!!! I am just going to post a couple of pics for now as it's been a long day of travel, and I just have a couple of pics of the Esperanza I borrowed from Bright Ice. I am sure the others will come and post some of their favorite pics, too! (I am going to suggest that we not post a pic of anyone else's face, but by all means post your own, if you wish!)
On Saturday, Kroshka and MrKroshka graciously served as our tour guides to some fabulous antique jewelry stores and finally a short visit to Cartier and VCA before another wonderful dinner back in Sugar Land at Perry's Steakhouse. Pics and more details from that trip will be in the other thread.
I need to say one more thing, though. The highlight of the weekend was not diamonds. It was people. Wonderful people. Friends old and new. True hospitality. It's what keeps some of us here on PS for years. I am thankful for Pricescope for many reasons, but as much as I love fine quality diamonds and jewelry, sharing this hobby with such wonderful people is the greatest treasure!
Thank you SO much,
Whiteflash
!