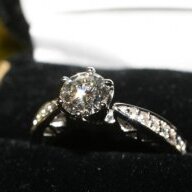 Joined

Apr 16, 2009
Messages

17
After stalking the boards for the past month I decided to register and get some direct feedback about my imminent purchase.
First off, I am in love with this setting because she has tons of silver jewelry in this style and loves it!
http://cgi.ebay.com/14K-ANTIQUE-PAVE-DIAMOND-RING-SETTING-MOUNTING_W0QQitemZ250368579814QQihZ015QQcategoryZ152869QQtcZphotoQQcmdZViewItemQQ_trksidZp1742.m153.l1262
I know... It''s Ebay, but the seller has excellent feedback, and I found a number of positive reviews on this board. I also called the seller and talked to him for a few minutes. He was polite, helpful, and professional.
My main question is whether a GIA graded J diamond is likely to look odd with the white gold setting.
Here are the specs of the stone I have ordered (sight unseen, but with a risk-free return policy, and I was less afraid to buy a VSI unseen than a lower clarity):
After reading all I could find on these boards I decided to roll the dice with a J color stone with strong fluorescence. The recipient (my girlfriend) owns no diamonds and is unlikely to ever learn how to read a diamond certificate or know what VSI or J mean. She is from South America and rings with big stones are certainly not the norm in her country. Although this in undoubtedly because not a lot of people there could afford real diamonds, even among the upper-middle class -- working professionals like herself -- people are not diamond savvy like many Americans.
Stone shape: Round
Carat Weight: 0.63 carats
Cut: Ideal
Color: J
Clarity: VS1
Certificate type: GIA
Depth %: 62.5
Table %: 58
Symmetry: Very Good
Polish: Very Good
Girdle: Medium to Thick
Culet: None
Fluorescence: Strong
Measurements: 5.45 x 5.5 x 3.42 millimeters
Length-to-width ratio: 0.99
I paid $800 for the stone, which undoubtedly reflects a big discount for the J color (but might I get lucky with some color / fluorescence synergy? We''ll see).
Here are some questions I have been thinking about. If you could answer some or any of them I would be very grateful! I''m not sure what I have to offer the knowledge base of this board, but for what it''s worth I''m a recent law school grad specialized in tax law, so if you want to know the tax consequences of gifting that 3 carat rock to your granddaughter during life or at death, maybe I can give you some non-binding advice
Then again if you have a 3 carat diamond you can probably afford to just call up your attorney and ask!
1. Anyone else have a J color GIA in white gold?
2. Anyone else have a J color with strong blue fluorescence? Photos?
3. For someone who has literally never seen a real diamond larger than 25 points, will a J diamond look like one would expect a "real diamond" to look like? I know this is an odd and subjective question, but here''s what I''m getting at. She knows nothing about expensive/rare/elite jewelry. If is looks beautiful on her finger she won''t care about anything else! I could give her a certificate that says IF, D, etc, and she wouldn''t know/care what any of it means.
4. For someone with modest tastes (again, a subjective term, sorry), will 5.45mm x 5.5mm look about right on a 3.75 size finger? I''m searching for a Goldie Locks diamond; not too big, not too small, but just right!
5. Any thoughts about this stone in that setting? Any advantage to just putting it in a simple setting other than saving a few hundred dollars? Would platinum look better than white gold with the J color?
Thank you so much for any advice. This is a very important decision for me and I am grateful to have such an excellent resource available.