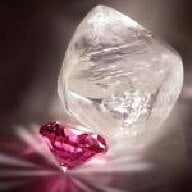 Joined

Jun 6, 2011
Messages

995
Hi need to find out which vendors are happy to use customer's stones to do custom ring work, and a very rough ballpark of what the prices approximate to.

The stone would likely be a FCD in the 0.3-0.5ct range. Solitaire setting - should be plain-ish, platinum as the metal choice

I contacted mctigue & mcclelland but their work involves larger stones typically and that's what their setting styles cater to.

I'm looking for someone with excellent workmanship more than a cheap price, and excellent responsibility. Of course, budget still is a concern, but would ideally like to keep it within or under 3-4K. Please share if you have recommendations.