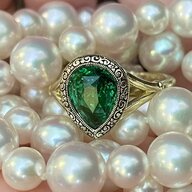 Joined

Mar 2, 2009
Messages

12,641
Ok, so I have a platinum Van Craeynest ring with a 5.77mm diamond that is ear marked for a pendant.
Question is what to reset into the gorgeous setting. My top two contenders are either my original ering diamond (6.2mm, F color, Ex/ex/ex) or a blue spinel that I also love and that is 5.6mm.
Arguing for the diamond is that if I make this setting my new ering, I will probably wear it much more often. And I LOVE LOVE LOVE the setting, and it does look pretty smashing with a diamond in it. And the blue spinel might be a bit small, and I might not wear it as often as a result since I have so many colored RHRs. Also, I do find my current ering setting a little dull sometimes (it's a simple solitaire, my hubby picked it out), so I wouldn't mind resetting it into something fabulous.
Arguing for the spinel is that it's already so close in size to the diamond that I probably won't have to have them put on a new head and risk messing up the ring. And I am a total colored gem fiend, and adore this blue. Also, my wedding band is a mokume band that's 3mm and doesn't at all go with the VC, so if I made that my new ering, I wouldn't really ever wear them together as a set. Also, I wouldn't have to ship two diamond across the country, which honestly makes me a little nervous!
So what would you do? Reset the diamond for a new ering? Or set in the blue spinel for an opulent right hand ring?
Here are some photos of the blue spinel in question next to the VC.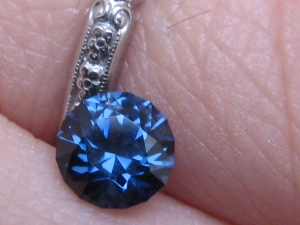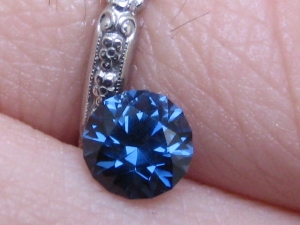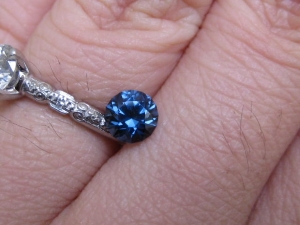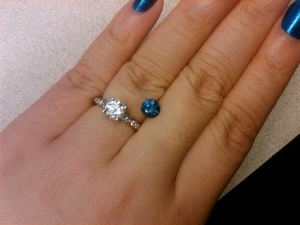 And here it is next to my current ering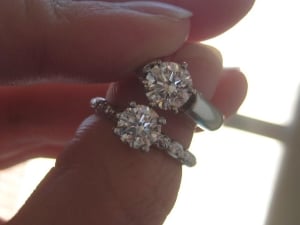 And with my mokume band