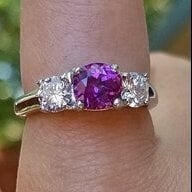 Joined

Sep 11, 2013
Messages

1,118
@AnastasiaBeaverhausen

I also may or may not have purchased this gorgeous ring last night bc it's exactly the look I love. So I'll have 3 wedding bands to consider *sighs at own inability to control love for bling*
What do you mean by "consider"?? 3 bands is the perfect # for stacking, right?
Also @OdetteOdile I thought you might appreciate this ring i tried on at VC. This was the one I didnt want to take off. But the setting ALONE is $6400, which is painful *faints, cries*.
Welp, guess now I have to save up $6400. How much does a kidney go for nowadays?