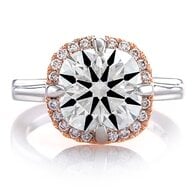 Joined

Mar 24, 2009
Messages

146
I''ve read that a Round Brilliant stone in the same weight as a Princess cut will look bigger. But that doesn''t make a whole lot of sense to me. I realize that typically the diameter of a RB will be wider than the width of a Princess of the same weight. But when your eye looks at a Princess, there is also the diagonal corner-to-corner view which is larger than the diameter of the comparable RB. So which really looks bigger? Seems to me that the Princess would because of its points.
For example, say I''m comparing 2 stones, both 1.5 carats.
The RB is 7.5mm in diameter and the Princess is 6.4mm wide.
But, the diagonal corner-to-corner length of the Princess is 9.05mm.
Doesn''t that mean that the Princess will actually look bigger than the RB of the same carat weight?
I''m confused!

Any insight?