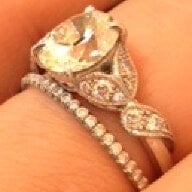 Joined

Feb 17, 2007
Messages

14,167
So I have a few pieces that likely will need to be tweaked in the near future. Both are ebay finds-so I can't go back to the person who made/sold them.

It occurred to me that I had no idea if any of the PS vendors do repairs or tweaks of existing settings! So anyone had a PS vendor work with them on something they already had?

I have two things to be done:

1. An eternity band (all the stones are set in a metal bezel of sorts but are bead-set inside) that I would love to try and get resized a touch. When I bought it the consensus was that it could be resized-but that it would take a skilled benchman.

2. A shared prong ring that needs to be sized (not an eternity) and also have the prongs redone.

Anyone know which lovely PS jewelers might do this kind of work? I have a local person too but honestly I am not sure I trust them with this-they don't always listen perfectly to directions...although they have done lovely work for me in the past...so I'll go there if I have to.

Both items aren't too expensive so shipping isn't an issue.

I also thought this might be a good "sticky" topic as people ask these questions all the time and it would be nice to refer them to a thread...