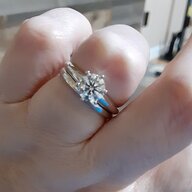 Joined

Dec 31, 2006
Messages

473
Hi everyone, I hope I'm posting this in the right place...I apologize in advance if it's not.
I thought it would be fun to seek others opinions about favorite ring styles. I'm going to list my top four choices, and would like to see which one would be the most popular choice among you. These are styles that are my favorites, and can't decide on which is my absolute favorite. Let's assume all diamonds involved are near-colorless, well-cut, eye-clean, round brilliants.
(Please consider the statements below before voting, as I don't have pics for examples.)
The 3 stone would be like the one in my avatar
The 1 ct solitaire would mean selling my current 3 stone or trading it in for a 1 ct.
The 5 stone band would be worn in place of the 3 stone as a stand-alone, probably 1.5 ctw
The .70ct solitaire in a halo setting would be using my current center stone in my avatar ring and picking a very nice setting
I appreciate and value your opinions!!! Thanks in advance!!!