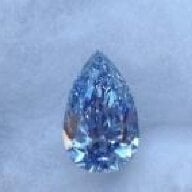 Joined

Feb 8, 2010
Messages

1,007
Dear knowledgeable diamonds fans, can I please draw on your wisdom and expertise?
I''m a first-timer here, and I need some diamond advice:
I''m at that very fun moment of choosing my engagement ring. And my partner, dear man that he is, will get me whatever I want.
And I, being a lover of all things lab-created (have a lab sapphire ring and get compliments on it ALL THE TIME), I want a lab-created diamond. And, being a lover of all things blue, I want a blue diamond.
After spending several hours in the friendly local diamond showroom, I''ve chosen my setting (Halo - pic attached). And after reading lots about lab diamonds, we''ve decided we should get it from D.NEA (and if you wonderful D.NEA folks are here, I heard about you from Synthetic Diamond Fan''s blog post). Thanks to D.NEA''s guarantee, even my non-online-shopping partner has agreed.
However, when it comes to choosing the shade of blue (ie. intense, vivid, etc.), it''s a little more difficult. It''s not like I can walk into a local store and ask to see their blue diamonds.
And the pictures online look different on every monitor.
So here''s my question: how blue do I go? Periwinkle is my favourite shade of blue.
Is vivid too vivid? Is intense too pale in person?
For those of you who have seen blue diamonds live and in person, your advice would be appreciated!!!
Thank you!
PS. I know that we could choose a stone, order it and then if I don''t like it, exchange it for another. But returning things is not my partner''s preferred modus operandi and, well, it''s a pretty important moment for us, so he''ll be extra sensitive. So ideally I''d like to get it right the first time. Engagement rings are NOT like shopping for anything else, apparently.