I am in the early stages of making a diamond RHR. I want something with some vintage flair and that does not look like an engagement ring.
I didn't find anything I really liked in rings but then I found these 2 pendants and thought both would look great as a ring.
Both jewellers say they can do a custom order and make a ring like the pendant.
Either way I will have a 0.5 - 0.6 ct MRB stone in the centre.
I really like both and can't decide which I like more.
Which would you choose?
Choice A: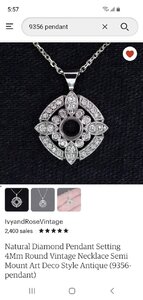 Choice B: